When do you need to use a Dual Battery System from Koan Solutions?
A dual battery system is recommended when needing to run powerful accessories, such as an inverter or fridge while the vehicle's engine is turned off. At Koan Solutions we use the REDARC Isolators that have been designed to meet all the needs and requirements of a dual battery electrical system in the modern 4WD vehicle. The Smart Start® SBI is a microprocessor-controlled battery isolator designed for use in multi-battery applications as a solenoid priority system, protecting the start battery from excessive discharge, whilst allowing the auxiliary battery to supply non-essential loads.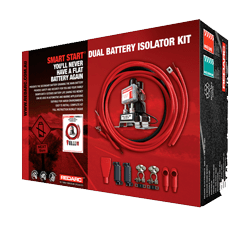 4WD and Commercial Vehicle Dual Battery Systems
The Redarc Smart Start® is designed primarily for use in 4WD and commercial vehicles and is available in four models; 12V DC or 24V DC incorporating 100A or 200A continuous ratings. The 200A models are designed for extremely heavy-duty operations. The Redarc Smart Start® is Australia's most trusted dual battery isolator and is used by 4WD clubs throughout Australia.