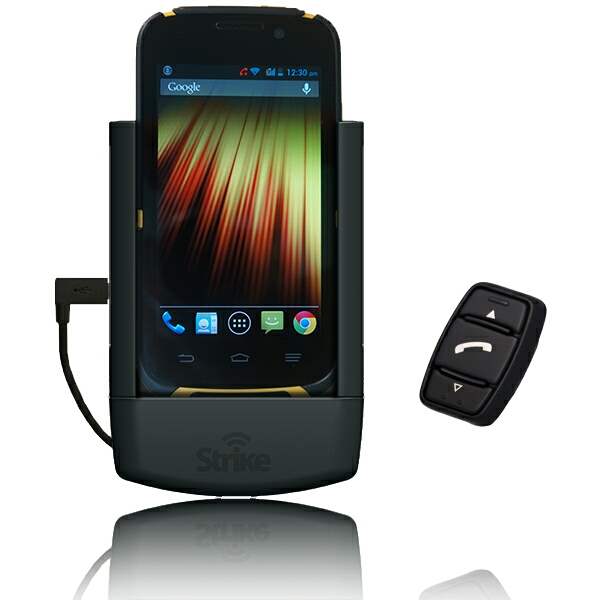 The most exciting phone cradle to come out of Strike manufacturing, the brand new Strike Alpha Cradle is a game-changer in mobile phone car holder technology. This is not just a phone holder, but a highly innovative, durable and user-friendly product.
The Strike Alpha even has its own Android App which connects with the NFC capability on the car cradle to personalise your Alpha experience, you can even program your phone to automatically launch a particular app when it is connected to the cradle, making it one of the most advanced mobile phone car holder's on the market.
Iphone holders for cars are at a great need these days and the Strike Alpha provides a wide range of different options for the very popular Apple range. All Alpha phone cradles, come with an in-built passive signal boost antenna, but if you're looking for an even stronger signal, the external FME male connection gives you the ability to attach the cradle to an external signal boost antenna.
The iPhone holder for cars, in particular, is one of the features of the Alpha range, including the capability for a case on the phone while fitting seamlessly into the car cradle. Everyone knows how much of a frustration it is when you have low phone charge, especially with high-powered smart-phones, well the Strike Alpha car Cradle has the solution, a charger providing up to 2 Amps output, the FASTEST phone charger in the world, making Alpha a step above the rest in phone cradle technology.
Never will you be caught with no battery at that crucial moment again as the iPhone holder features the Apple designed and approved lightning charger pin. Your handsfree car cradle needs are at the top of our priority list and that's why at Strike we offer value for money, reliability and simplicity, to put it simply, Strike Alpha can not be beaten.
Koan Solutions has sold cradles for years, so we know what customers want and what makes a good cradle. designed specifically for the customers we service.
The Strike Alpha car phone cradle range offers a 12-24V input and 5V 1A output – perfect for installation into a range of vehicles, from cars to trucks. As well as the standard cradles, there are DC-DC converter and cigarette lighter car charging options available for customers. The female microUSB connector at the bottom of the Strike Alpha cradle has active data+ and data- pins. This means that not only will the cradle offer a charging connection, but also allow connection to a computer, car kit and other electronic devices via an additional cable.