There are thousands of parts under the Auto Electrical Accessories umbrella that range from the smallest of connectors and fuses to the largest of heavy duty batteries.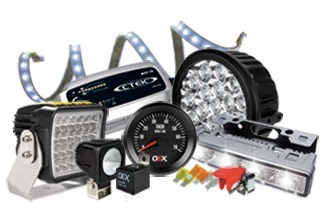 This extensive range offered caters to many industries whether it is construction, mining, agricultural or industrial.
Koan Solutions is continually keeping up and investing in latest technologies to deliver high quality accessories to the industry.
The Accessories range includes but not limited to: LED Lighting, HID lighting, work lights & emergency lighting, globes, switches, fuses, relays, flashers & circuit breakers, cable, cable accessories & connectors, batteries, battery chargers, battery accessories, reducers & inverters, warning devices, cameras, turbo timers, gauges & audio.
For more detailed information on these accessories navigate your way through our extensive range or visit our showroom to discuss your options.