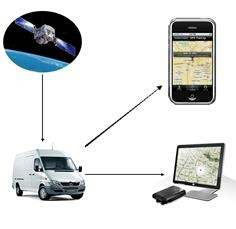 Koan Solutions's security and tracking systems can provide a range of 24/7 monitored, or even self monitored systems for light and commercial vehicles, motorcycles and boats.
Our systems are designed to advise immediately if the vehicle has been tampered with, stolen or moved.
Each unit has a sim card, just like your mobile phone. This allows the unit to communicate with the 24/7 monitoring centre, or if self monitored, the vehicles owner, if an alarm has been triggered & provides national coverage.
Our tracking systems use GPS for accurate location. Each unit has a black box recorder, just like a plane. The unit records each second with one hour of continuous data, consisting of GPS position (approximately 6 metres accuracy), time, date, speed and vehicle heading. This information can be down-loaded to a computer and relayed on a map.
The unique feature of Koan Solutions's Tracking system is that it provides direct customer access to the unit. From any phone you can lock or unlock doors, live track on your PC or PDA, set over speed and receive low battery calls.
Koan Solutions's tracking systems, are an advanced vehicle and asset security solution. They will ensure that criminals lose out and not you!.
Product Description:
AT5i is the most stable and advanced vehicle tracking device, with the flexibility of custom reporting mechanism for advance users. It also gives the option of saving communication costs while keep the administrator to know the vehicle's whereabouts in real time. In addition, the external accessory compatibilities, such as RS-232, CANBus interpreter, and 1-Wire®, give more options to meet all your project needs.
Product Features:
CANBus Supported. (Function in tuning stage)
Impact/Crash detection (Up to 16G).
Wide acceptable power range (8~40VDC).
FOTA (Firmware updating via GPRS from FTP server).
1-Wire® Protocol Integrated.
Configurable real time tracking and logging interval by time, distance, ignition status, vehicle speed or heading changes.
GSM/GPRS Roaming preference setting.
Optional GPRS report with AES-128 data encryption.
GPS antenna tampered or reception timeout detection.
GSM jamming detection.
Acceleration Detection (Harsh breaking and accelerate measuring).
GPS/VSS odometer.
Ignition and engine on/off detection.
Speeding, idle report, vehicle towing alert.
User defined Geofence zones (Circlar, Rectangular, and Polygonal).
User defined reports.
Schedule control for all reports.
Configurable power management setting