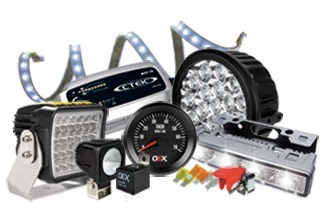 There are thousands of parts under the Auto Electrical Accessories umbrella that range from the smallest of connectors and fuses to the largest of heavy duty batteries.
This extensive range offered caters to many industries whether it is construction, mining, agricultural or industrial.
Koan Solutions is continually keeping up and investing in latest technologies to deliver high quality Accessories components to the industry.
The Accessories range includes but not limited to: LED Lighting, HID lighting, work lights & emergency lighting, globes, switches, fuses, relays, flashers & circuit breakers, cable, cable accessories & connectors, batteries, battery chargers, battery accessories, reducers & inverters, warning devices, cameras, turbo timers, gauges & audio.
For more detailed information on these accessories Navigate your way through our extensive range or drop into our showroom to discuss your options.
240 Volt Electrical
Looking for an Inverter, power points or simply having your vehicle tested and tagged to ensure your vehicle, trailer, camper trailer or caravan is compliant?
Call us as this and many other products and services are on offer.
Wireless Tyre Pressure & Tempreture Monitors (TPMS)
Tyre pressure is often overlooked when it comes to road safety. As little as a 5 psi difference in tyre pressures, can mean drastic increases in fuel usage, tyre and engine component wear. Not to mention the increased risk of a blowout at high speed.
TPMS has a complete range of Wireless Tyre Pressure and Temperature monitoring systems to suit many types of applications.
This includes motorcycles, car, truck, motor homes, buses, car and trailer, car and caravans.
By the time we're aware of a faulty tyre, it's too late. The sidewall may already be beyond repair, or if your towing, you're tyre may already be blown out on the freeway and you wouldn't even know. This is a very dangerous occurrence, not just for you and your family, but for other drivers on the road as well.
The main aim of Tyre Pressure Management System is to avoid situations like this by showing your tyre pressure for each wheel in real time. Alarm warning values can be set to warn you when your tyres are running low, over inflated, or too hot. TMPS can be easily set-up via the Graphical User Interface and allows you to set alarm warning values for: Low Pressure, High Pressure and High Temperature. The settings also allow you to have your pressure measurements displayed in PSI, KPA, BAR and Kg/Cm2 and temperatures in Celsius or Fahrenheit.
The most important feature about the TPMS system all throughout the range is that the sensors are totally external, and weigh only 10 grams. Gone are the days of your local Tyre fitter busting your internal sensor when doing a balance or changing a Tyre, you can install the complete system yourself, with no technical background or experience! Simply screw the supplied sensors onto your valve. They are totally sealed from the elements so dust and water is not an issue and if you're worried about someone wanting the sensors more than you, each kit comes with a set of SecureFit fixing rings to keep the sensors where they belong.
The monitor simply mounts to the windscreen using the supplied suction cup bracket. On screen is each tyre's pressure updated periodically and at the same time. Unlike a lot of other TMPS' on the market, the TMPS shows you ALL of your tyres in their respective locations at the same time.
Apart from when checking your temperature or the condition of your spare tyre on the TD-1300A-X5 model, you never need to press any buttons to check on your tyres, meaning less time operating the unit, and more time enjoying your drive.
For more detailed information on these accessories Navigate your way through our extensive range or drop into our showroom to discuss your options.​